Discover more from Who is Robert Malone
Medicine, science, bioethics, analytics, politics and life
Over 317,000 subscribers
World News Round-up: Modern Day Stasi Tactics
Weaponizing COVID-19 tracking tech for other purposes
For four decades, East Germany held complete power over almost all aspects of life for people in East Germany. They maintained this domination by use of a secret police force named the Stasi.
The Stasi were one of the most successful intelligence services in history: they kept almost unimaginably detailed files and records on large quantities of the population, and created an atmosphere of fear and unease that they then proceeded to exploit. They created a vast network of unofficial informants to spy on the populace.
In 1990, the Stasi were dissolved when East Germany disintegrated, and there is an ongoing effort to understand all that they knew, did and how they did it.
Governments all over the world are using surveillance data collected on the net, and have now expanded their reach by using COVID-19 tracking technology - just as "conspiracy theorists" had feared would be the case. These governments and NGOs seem to think -in a naive kind of "hope"- that if they only have enough data, they could control the world and bend reality to their objectives.
As had been feared, it now turns out that governments are using the COVID-19 tech to follow, track down, investigate and arrest people for reasons that have nothing to do with COVID. COVID-19 exposure, tracking and contract tracing tools have become all purpose tools for biosecurity surveillance states.
Today, I am highlighting a few recent articles that show how these surveillance states are using COVID-19 tech to monitor, track, investigate and arrest. Forewarned is forearmed, as such tactics could and probably will be used against you.
---
Associated Press, December 20, 2022
The Associated Press (Tech) reports:
"from Beijing to occupied East Jerusalem to Hyderabad, India, and Perth, Australia."
"Now, from Beijing to Jerusalem to Hyderabad, India, and Perth, Australia, The Associated Press has found that authorities used these technologies and data to halt travel for activists and ordinary people, harass marginalized communities and link people's health information to other surveillance and law enforcement tools. In some cases, data was shared with spy agencies. The issue has taken on fresh urgency almost three years into the pandemic as China's ultra-strict zero-COVID policies recently ignited the sharpest public rebuke of the country's authoritarian leadership since the pro-democracy protests in Tiananmen Square in 1989.

For more than a year, AP journalists interviewed sources and pored over thousands of documents to trace how technologies marketed to "flatten the curve" were put to other uses. Just as the balance between privacy and national security shifted after the Sept. 11 terrorist attacks, COVID-19 has given officials justification to embed tracking tools in society that have lasted long after lockdowns.

"Any intervention that increases state power to monitor individuals has a long tail and is a ratcheting system," said John Scott-Railton, a senior researcher at the Toronto-based internet watchdog Citizen Lab. "Once you get it, is very unlikely it will ever go away."
A brief review some of the findings.
Israel appears to be using COVID-19 tracking data to GPS locate people to protests and threatening them with legal action for their involvement… "Gil Gan-Mor, an attorney with the nonprofit Association for Civil Rights in Israel, estimates that hundreds of Arabs in Jerusalem received the threatening message during the unrest and said the mass text message blast was unprecedented."

Australia (Perth): "The AP has found that authorities used these technologies and data to halt travel for activists and ordinary people, harass marginalized communities and link people's health information to other surveillance and law enforcement tools"

China: There are many cited examples within the article, where the health codes have been used to stifle dissent through out China."
The following gallery of screen shots documents some of the countries wherein COVID-19 data has been used in ways other than intended (click on the image to expand).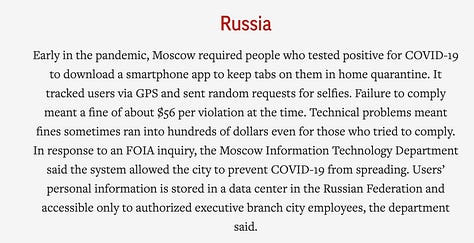 AP article images.
---
Kremlin Planning Database To Track Movement of Conscripts Evading War
Newsweek, December 6, 2022
"… the Russian military, together with the Russian Ministry of Internal Affairs, is taking steps to launch an electronic database by February 2023 documenting the personal details of all servicemen, restricting their movement even when out of uniform.

The "database" is allegedly connect to plans by the Kremlin to conduct another covert mobilization drive in February 2023, and will be rolled out after Putin's initial partial mobilization efforts in September "demonstrated many shortcomings in the inner workings of the military commissariats."

"In order to control the movement of conscripts, a single database of conscript citizens of the Russian Federation is being created," the SSO said in a press release on Monday.

The SSO said the data will be integrated with the databases of Russia's State Traffic Safety Inspectorate (Traffic Service), the Federal Migration Service (FMS), the mandatory pension and health insurance systems of the Russian Federation (SNILS and OMS), as well as the Federal Service of State Registration, Cadastre and Cartography (Rosreestr).

According to the intelligence report, Russian employers will be forced to inform military commissariats about conscripted workers. Those who evade mobilization and refuse to provide the necessary data for the registry "will not be provided with public services."
Read that last sentence again.  If these men do not comply with Russian surveillance via tracking devices, they will be denied public services.  Ego: money, banking, transportation, energy, heating, etc. Just to say it, it is very hard to live in a Russian city without heat or money.
When we were in Turkiye last month, we were told that young men from Russia were flooding into Turkiye and with them, their family's money.  That Turkish real estate market is hot – due to all the Russian men fleeing conscription and that Russians were buying up property in Turkiye to escape the war and recluse in Turkiye.
---
Thurrott, December 23, 2022
"ByteDance, the parent company of TikTok, has confirmed after an internal investigation that some of its employees have been using the app to spy on journalists. As reported by Forbes, ByteDance used TikTok to track multiple Forbes journalists who were suspected of leaking information about the company.

The surveillance project has been led by a ByteDance team based in China. This team used IP addresses and user data to check if journalists covering TikTok had been in the same location as ByteDance employees. The report comes just a couple of months after an FCC Commissioner asked Apple and Google to remove TikTok from their mobile app stores over data security concerns.

According to Forbes, ByteDance has laid off Chris Lepitak, its chief internal auditor who was overseeing the company's surveillance tactics. Song Ye, ByteDance's head of audit who Lepitak reported to has also left the company.

In an internal email shared with Forbes, ByteDance CEO Rubo Liang apologized and acknowledged that TikTok's reputation will likely take a hit. "I was deeply disappointed when I was notified of the situation… and I'm sure you feel the same," Liang wrote in the email. "The public trust that we have spent huge efforts building is going to be significantly undermined by the misconduct of a few individuals. … I believe this situation will serve as a lesson to us all."
---
CNS News, Dec, 2022
"You'd better watch out—you'd better not pout—you'd better not cry—'cos I'm telling you why: this Christmas, it's the Surveillance State that's making a list and checking it twice, and it won't matter whether you've been bad or good.

You'll be on this list whether you like it or not.

Mass surveillance is the Deep State's version of a "gift" that keeps on giving…back to the Deep State.

Consider just a small sampling of the tools being used to track our movements, monitor our spending, and sniff out all the ways in which our thoughts, actions and social circles might land us on the government's naughty list, whether or not you've done anything wrong."
The article then lists the ways and examples of how they are being used.  This list includes:
Tracking you based on your phone and movements… (think January 6th and COVID-19 monitoring tech)

Tracking you based on your DNA. DNA technology in the hands of government officials completes our transition to a Surveillance State…

Tracking you based on your face: Facial recognition software aims to create a society in which every individual who steps out into public is tracked and recorded as they go about their daily business. Coupled with surveillance cameras that blanket the country, facial recognition technology allows the government and its corporate partners to identify and track someone's movements in real-time.

Similarly, biometric software, which relies on one's unique identifiers (fingerprints, irises, voice prints), is becoming the standard for navigating security lines, as well as bypassing digital locks and gaining access to phones, computers, office buildings.

Scientists are also developing lasers that can identify and surveil individuals based on their heartbeats, scent and microbiome.

Tracking you based on your behavior: Rapid advances in behavioral surveillance are not only making it possible for individuals to be monitored and tracked based on their patterns of movement or behavior, including gait recognition…

Tracking you based on your spending and consumer activities: Consumer surveillance, by which your activities and data in the physical and online realms are tracked and shared …

Tracking you based on your public activities: …  Defense contractors have been at the forefront of this lucrative market.

Tracking you based on your social media activities…

Tracking you based on your social network: Not content to merely spy on individuals through their online activity, government agencies are now using surveillance technology to track one's social network, the people you might connect with by phone, text message, email or through social message…

Tracking you based on your car: License plate readers are mass surveillance tools that can photograph over 1,800 license tag numbers per minute, store the tag number and the date, time, and location of the picture in a searchable database, then share the data with law enforcement, fusion centers and private companies to track the movements of persons in their cars…
During COVID-10 almost all of these surveillance programs have been expanded. Governments, even the US Government want us to believe that we have nothing to fear from these mass spying programs, as long as we've done nothing wrong.
Don't believe it.
The government's definition of a "bad" guy is extraordinarily broad, and it results in the warrantless surveillance of innocent, law-abiding Americans on a staggering scale.
Read more details on these tracking methods here.
---
The Twitter files have exposed just how deep the deep state is into tracking, censoring, changing the narrative and how embedded they are in main-stream (state - sponsored) media as well as "big-tech."
We know that the government has spent more than ten billion dollars to promote these vaccines through social media, entertainment and news. We know that they paid to not only censor, but also to defame.
There is only one hope for our country at this point, and that is to continue to dip into the deep well of wisdom from our constitution. That is what will save our country. The guardian of the integrity of our republic is the judicial system. This is why the corruption of the Department of Justice by the deep state and the executive branch is so dangerous to our republic. We now must rely on our judges to uphold the constitution. Let's hope they are up to the task.
It is our republic, not our democracy - that offers real solutions to the surveillance state.
---
---